A wedding is an event that should be cherished. There are a lot of festivities, the people you love the most get to celebrate with you, and the excitement of starting a new life together is overwhelming. That said, weddings can be very pricey. In fact, couples spent an average of $33,900 on their weddings in 2019, which is a huge expense for most people.
That's why preparing for it financially should be a priority. It's a milestone for sure, but couples should also be mindful of how much they spend on it if they don't have unlimited funds to begin with.
Where Will You Get the Funding From?
So, what is the first step in the financial planning of your wedding? Know where the money is coming from, of course! Lots of couples dip into their shared savings, while others get generous help from their relatives and, at times, even friends. The couple's families might offer to split the cost of the entire affair, and if that's something that is agreeable to the both of you, there is no shame in accepting it.
Another option is to put the expenses on plastic. That is, to use your credit card to cover some of the costs of the event. You can earn a lot of points for spending several thousand on the wedding and, not to mention, borrow the exact amount you need. Many credit card options now come with 0% interest rate, so it won't be a headache to pay off later on. The downside is that you might end up paying high fees and end up spending more than you intended. Some couples also don't want to start their married life with debt and, understandably, would rather use their savings.
An alternative option is to apply for a personal loan. As with credit, this gives you the option not to shell out a huge sum of money up front. Before sending in an application, it might help to use a personal loan calculator to determine how much you can afford to borrow based on how much you can pay back in installments. Again, it's better to start off your marriage on a good note, so planning for your finances together is crucial. You'll need to have a sense of how much your wedding is going to cost, which brings us to the next point: setting your wedding budget.
What Will You Be Spending On?
To set your budget, you need to know what you're actually spending on. Another survey by The Knot, this time from 2017, created a breakdown of a wedding's typical expenses. These are some of those costs:
Engagement ring – $6,163
Catering per person – $71
Party favors – $268
Wedding dress – $1,564
Venue – $4,000-$8,000
Of course, that list is a lot longer and it helps to inquire from several vendors before committing to any of them. That way, you can choose the best option that fits your budget. For example, you can look at the rates in Villa Antonia to see when it's best to schedule your big day. Weekends are more expensive, of course, while weekdays are very reasonably priced. You might want to hire the photographers in-house too, and save a ton on your wedding. The point is that you have to know your options so you can more accurately stick to a realistic wedding budget.
Can You Cut Costs on Your Wedding?
The short answer is: yes! There are many ways to save money while still having the wedding of your dreams. For one, you can have a smaller ceremony altogether. Villa Antonia even has a micro wedding package that might suit your needs. By making this more intimate, you can also celebrate with the people you're closest with.
A lot of food also gets wasted during weddings, so according to some planners, you can ask the caterer to provide smaller plates. That doesn't mean guests can't come back for second helpings — it just means they can control their portions more and avoid food wastage.
It also makes more sense to send out digital RSVPs instead of paper invitations, especially at a time like this. And, renting your bridal party dresses (and entourage tuxedos) can also help you in a pinch. Let's face it: these dresses may never be taken out of the closet again, so there's really nothing wrong with renting them! Some brides are even opting to rent their own wedding gowns these days.
Weddings are very important, but so is starting your married life on the right foot and without a huge bill to worry about. The important thing really is that you get to celebrate your union — all the rest are just details. And if you're ready to get started on the planning, set an appointment for a tour around the villa now.
—
By Angela Taylor solely for villaantonia.com
[gravityform id="1″ title="true" description="true"]
Why a Day Coordinator is so important and why we include one in the venue rental: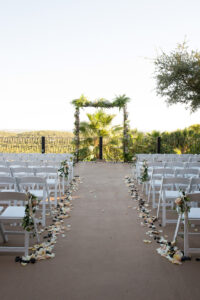 Your wedding day is one of the most important days of your life. Naturally, you want everything to be perfect. But with so many details to tend to, it's easy to get caught up and stressed out on a day that's supposed to fill you with joy. At Villa Antonia, we pride ourselves in our Venue Coordinating Services (included in the rental fee) so you may leave the details—and the worries— to our seasoned venue coordinators and enjoy an exquisite day all about you and your love, making beautiful memories that will last a lifetime.
Listed below are examples of how the Venue Coordinator helps out:
 • Remain in contact throughout the planning process to answer venue-related questions
 • Meet with you, and your catering manager during a Final Coordinating Meeting to create a detailed "Day-Of" timeline and draw up a floor plan of  the event (four – six weeks prior to your wedding date)
 • Support your Wedding Planner, if you have one, by answering venue related questions
• Contact vendors one week prior to your event to coordinate arrival times and setup • Schedule and coordinate the rehearsal and walk through on one of the days before your event • Welcome guests as they arrive and direct them to ceremony area
 • Pin on boutonnieres prior & assist with dress bustle after ceremony, if needed • Coordinate the ceremony (i.e. line everyone up, cue music, send each down the aisle)
 • Lead guests during transition periods throughout the evening, from ceremony to reception, dinner to party, and finally the grand departure
 • Liaison between bride, groom, and vendors (e.g. DJ, photographer, videographer, etc.)
 • Notify those making toasts 10 minutes prior to "go-time" • Provide water throughout the event, and drink of choice for the couple once bar is open
• Work closely with DJ/MC throughout the evening to ensure timely announcements
• Help gather décor ready to be picked up at the end of the evening
• Assist with departure line-up and newly married couple sendoff
• Facilitate the vendor tear-down of the event's decorations, tables and chair
Villa Antonia is a Hill Country gem offering venue services for weddings and special events. Our experienced and capable event coordinators are here to make sure that you too get to enjoy the occasion alongside your guests. Our unique capacity affords flexibility with indoor-outdoor space adding peace of mind for your memorable evening. Email us at
[email protected]
to schedule a tour of our facilities.
Photohouse Films filmed a wedding at Villa Antonia several months ago and we enjoyed having them at the Villa, as well as Heather and Jacob of course. Below is an excerpt from Photohouse Films' blog.
"We had so much fun at Heather and Jacob's Wedding! Villa Antonia's dreamy vibe set the perfect tone for their celebration. The day was full of excitement and love that could be felt by all in attendance. We loved all of the gorgeous details and personal touches that took their wedding to the next level. Thank you Heather and Jacob for allowing us to capture your special day! We hope you look back on these films every year and reminisce about what an amazing day it was!"
Venue: Villa Antonia|Planner: Ashley Nicole Affair | Florist: Bouquets of Austin | Entertainment: Exodus Sound Co | Cake: The Cake Plate | Catering: Austin Catering | Photography: PhotoHouse Films | Hair/Makeup: SC Beauty
A Wedding at Villa Antonia | Heather & Jacob | Love Story | PhotoHouse Films | Austin Wedding Videographers from PhotoHouse Films on Vimeo.
If you're in wedding-planning mode, then you may be feeling a bit stressed. There's actually a lot of validation for your state of mind. According to Zola, the online wedding registry, finding a venue to hold your nuptials is one of the most anxiety-inducing parts of the wedding planning process. Not only does the venue set the tone for the day your union is officiated, but your memory of the chapel, reception hall, and even the bridal suite, will reside in your wedding-day memories for the rest of your life. That's why you want to find a special, picture-perfect venue — like Villa Antonia, located inTexas Hill Country. After that, everything else will fall into place. 
For multiple years running, Villa Antonia was named "the Knot Best of Weddings" and was also included in "the Knot Best of Weddings Hall of Fame." Additional noted accolades are consecutive "Couple's Choice Award" winners for Wedding Wire, Associated Wedding Planners of Austin Vendor Pick, many outstanding google reviews, and lots of publications that professionals have submitted for local and national wedding magazines, websites and social media sites.
Located about 35 minutes from downtown Austin, the elegant, old-world style estate stands on acres of rolling brushy hills. But these are not the only reasons you will want to wed your best friend at this sprawling, Mediterranean-inspired venue. Here are the top five reasons why Villa Antonia is the best place to celebrate your special day.
Beautiful Venue and Breathtaking Views
Villa Antonia is located a short drive from Austin, but sweeping views of the surrounding green, lush hills will make you feel like you're in a faraway place and time. The Texas Hill Country with views of Lake Travis make our venue the perfect space to highlight our beautiful area.
The Mediterranean-style villa and courtyard was designed using natural stone and trimmed with handcrafted iron rails and accents. Outdoor courtyard weddings at Villa Antonia are accented by a butterfly garden, trickling fountain and waterfall, tasteful art and stately statues, phenomenal lake views, and multiple bell towers. 
Day of Coordinator Included In Venue Rental
Villa Antonia has an on-site team that newlyweds have said saved the day on more than a few occasions. "Our inhouse coordination is by far the best gift we can give our couples to make sure they are well cared for on their day and that everything runs smoothly," says Villa Antonia staff. "Our coordinator helps with couples' desired layout, timeline, run of show, rehearsal and overall logistics."
On Site Chapel and Parking Attendants
Villa Antonia has on-site parking but they still operate a shuttle so all guests can move easily between the car park and the venue entrance. There's also a gorgeous bridal suite with a beauty bar, private sitting area and outside terrace. The groom's suite has a balcony overlooking the courtyard. It's a unique way for guests to get their first glimpse of the husband-to-be.
Villa Antonia has a dreamy chapel that is ideal for indoor ceremonies. For an indoor reception, the space can transform into an attractive dance hall (it's also available as a plan-B when unwelcome weather conditions roll in). The chapel's stately drapes are easily customizable to blend with almost any wedding-party theme. And when guests spill outside of the chapel, they're bathed in a romantic glow of festoon  lights strung about the courtyards and terraces. It's absolutely stunning.
The entire venue has outstanding acoustics, especially in locations that couples declare their vows and "I do's."
Indoor and outdoor spaces
At Villa Antonia, all couples can have their dream wedding, whether it's large or small, or an indoor or outdoor affair. The underground wine cellar can seat about TK guests, making it the perfect nook for brides and grooms who prefer having an intimate wedding party with just a few friends and loved ones. Couples are also welcome to dine on the terrace where they're surrounded by spectacular views of the lake and canyons. At night, everyone will be awed by the Hill Country's starry sky. Guests also love exploring Villa Antonia and experience all its beauty firsthand. 
The Best Vendors in Austin
Villa Antonia has a comprehensive preferred vendor list comprised of top event professionals, including nine caterers and party planners who are fluent in wedding traditions. "Our vendors are 'frienders,' says Villa Antonia. They are beautiful people who have integrity and their companies are always on trend. They also take excellent care of our clients and guests." 
If you're interested in making Villa Antonia one of the main highlights of your special day, you can tour the property or attend one of the three open-house events hosted at the venue each year. It gives future brides and grooms the opportunity to tour the grounds, meet staff and vendors. Fill out our contact form below to request an appointment with our coordinator.
[gravityform id="1″ title="true" description="true"]
The stars aligned for this lovely Longhorn couple! After meeting in college, then reconnecting years later, Nazli and Even decided to hold their wedding at Villa Antonia. The rose gold accents went beautifully with the September skies. Their ceremony was on the Lakeview Terrace. Dining and toasts on the Chapel Terrace. Friends and family danced the night away inside the Chapel before the sparkler send-off!
See more photos of this beautiful wedding,  by the fabulous and experienced Svetlana Photography,  at Nazli + Evan at Svetlana Photography